Water Purifier Pitchers that Give Bottled Water the Boot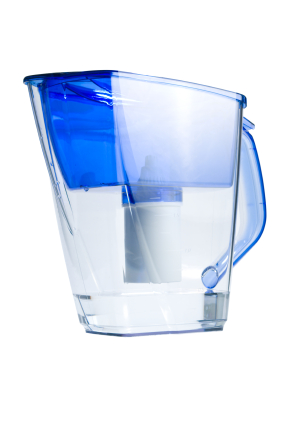 Brita Classic
The Brita Classic is the original water purifier pitcher and remains one of the company's best selling models. The Classic is an archetypical round pitcher that holds six eight-ounce glasses of water. This pitcher has a large footprint and seven inch diameter, requiring storage on the refrigerator shelf. The Brita Classic usually sells for $20-$25, depending on the retailer.
Brita Slim
For small households and tight spaces, the Brita Slim is the ideal choice. This compact pitcher costs between $10-$15 and holds five eight-ounce glasses of water. The slim, four inch wide pitcher is designed to fit in narrow spaces and refrigerator doors. The standard two-stage filter removes bad taste, corrosion from metal pipes, copper, mercury, cadmium, and other contaminants.
Buy Water Purifier Pitchers Today On Amazon.com
Brita Atlantis
The slim Atlantis pitcher was designed with space-challenged homes in mind. The four and a half inch wide footprint makes it perfect for storing on the counter or in the fridge. The Atlantis pitcher includes an LED filter change indicator, easy-fill flip-top, and ergonomic handle. The six cup Brita Atlantis costs between $25-$30.
Brita Grand
This large ten cup pitcher is perfect for families, offices, and large groups. The Brita Grand is available in white as well as number of fun, modern colors. For ease of use, the pitcher includes a filter change countdown, comfort-grip handle, and flip-top lid for easy refills. The large-capacity Brita Grand costs approximately $32.
Brita Replacement Filters
Brita's pitchers and replacement filters are easy to find at grocery chains, department stores, and online retailers. Replacement filters cost up to $8 when purchased individually. Four and six cartridge replacement packs are also available for about $5 per unit. Each cartridge has a lifespan of about two months or 40 gallons of water. Brita's filters are designed to remove the odor and taste of chlorine as well as hazardous metal content, chemicals, and microbes.
Clear2O Pitcher
The innovative Clear2O pitcher was selected by Good Housekeeping as one of the top new products of 2007 for its speedy 34-second filtration and fill time. The Clear2O pitcher has also received the Consumer Report's highest rating. The pitcher, which was developed by Black and Decker subsidiary Applica, holds nine eight-ounce glasses of water in a compact, space-saving design. The pitcher's pressurized filtration system is filled via a quick-connect hose that hooks to any standard faucet. This unique system removes more than 50 known contaminants. The advanced Clear2O Pitcher sells for $20-$25.
Clear2O Filters
Clear2O replacement filters retail for $7-$9 per unit. Each filter is designed to thoroughly filter 50 gallons of water, removing cystic microbes, lead, mercury, and dozens of other common contaminants. Applica's Clear2O water purifier pitchers and replacement filters are available online and at grocery chains, health food stores, and sports retailers.
Culligan Pitcher
For over seventy years, Culligan has been the most recognized name in water softening and filtration. The Culligan pitcher is an affordable model that incorporates the most popular design features, including a filter replacement indicator, ergonomic handle, and odor-blocking spout cover. The Culligan pitcher has a large half-gallon capacity and narrow profile designed for storage on the refrigerator door. The Culligan water purifier pitcher costs between $15-$20.
Culligan Replacement Filters
Culligan's water purifier pitchers and replacement filters are sold at grocery stores, hardware stores, and online. The company's two-stage filters effectively reduce odors, bad taste, chlorine, metals, and sediment. Culligan's filters have a 50 gallon capacity and cost approximately $7 each. Replacement filters will also fit Brita and PUR brand pitchers.
Mavea Elemaris Pitcher
Combining distinctive European design and German engineering, Mavea has developed a series of highly-rated water purifier pitchers. The Elemaris is a round filtration pitcher available in a five cup and extra-large nine cup capacity. Mavea's filtration pitchers are made from BPA-free plastic and incorporate a clever pour-through lid to make refilling quick and easy. The standard Elemaris pitcher sells for approximately $30 and the Elemaris XL costs $10 more.
Mavea Filters
Using a unique box-like filter design with a large surface area, Mavea has improved filtering time. All of Mavea's filters are treated with silver to prevent bacterial growth. Filters for the Elemaris models cost between $8-$9 each and don't require pre-soaking The company also sells universal replacement cartridges for about $5 each that fit Brita and PUR pitchers. Mavea products are sold online and through home goods retailers.
PUR Pitcher with LED
PUR's two-stage pitcher filters twice as many contaminants when compared to Brita's system. PUR's pitcher holds seven servings of water in a space-saving design. The PUR pitcher also includes a green-yellow-red filter life indicator. The PUR filtration pitcher costs about $20 online and at department stores, grocery stores, and drug stores.
PUR Flavor Options Pitcher
This novel filtration system from PUR filters water and adds one of four fruit flavors. All flavors are free from sugar, calories and dyes. Flavor is added on demand during the pouring process, so pitchers can also dispense pure filtered water. The Flavor Option Pitcher costs approximately $25 and each flavor cartridge costs between $6-$10.
PUR Replacement Filters
PUR uses a two-stage filter that eliminates the taste and smell of chlorine and helps reduce heavy metals. PUR's filters also remove over 90% of trace pharmaceuticals. Filters cost about $7 and have a lifespan of approximately two months.
ZeroWater Z-Pitcher
The ZeroWater pitcher is designed to filter out 100% of total dissolved solids. The Z-Pitcher costs between $30-$35 dollars and has a half-gallon capacity. The Z-Pitcher also includes an electronic tester to verify the purity of the filtered water. For ease of use, the Z-Pitcher has an integrated dispenser spigot or it can be stored on the refrigerator door.
ZeroWater Filters
The Z-Pitcher uses an advanced five stage filtration system designed to remove more contaminates than activated charcoal filters. Although the filter is more advanced, each replacement costs about $15, making it one of the more expensive water purifier pitchers to maintain. ZeroWater products are available at department stores, home goods retailers, and online.