Nothing is as important when backpacking as having a clean, reliable source of drinking water. Never drink untreated water. What you can't see really can harm you. Even if a water source looks perfectly clear, all bodies of water have microorganisms, bacteria or viruses. The last thing you want on a hike is a case of diarrhea.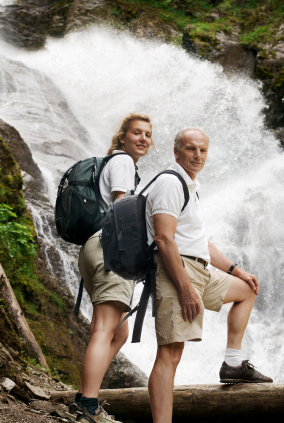 When searching for the appropriate water purifier for your needs, the first thing to consider is how exactly you will be using the purifier or filter. Do you need a filter to remove larger particles, parasites and bacteria or a purifier that will filter out all of these and disable viruses as well? How quickly do you need the drinking water be ready for use?
Buy Backpacking Water Purifiers Today On Amazon.com
A simple bottle filter will work for some treks, but a more sophisticated process may be needed in most cases.
Choosing a Water Cleaning System
When shopping for a water filtering or purifying system there are some things to take into consideration.
Whatever type of water purifying you choose you can extend the life of your filter by straining large pieces of sediment through a coffee filter or cloth. This can help keep your filter effective, longer.
In our comparison of products we'll start with the simplest and progress to the most thorough.
Filtering water bottles:
Portable hand pump filters:
Microbiological purifying systems:
Ultraviolet light:
The key to making your backpacking an enjoyable adventure is to pick the proper equipment. Do your homework and choose the backpacking water purifier that's perfect for you.