Preparing for disaster provides peace of mind today and invaluable relief in the worst case scenario. RVs, family vehicles, and first aid kits all benefit from the addition of emergency water purification systems. Depending on your needs, a pack of water purification tablets or a hand-held UV purification device may be ideal. On the other hand, large capacity gravity-fed filters or a ceramic pump filter might be a better choice for large groups or relief situations.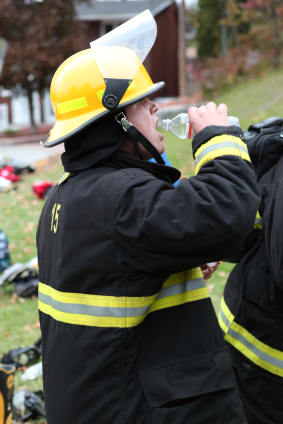 Natural disasters, tornadoes, hurricanes, and floods are occurring with increasing frequency. In emergencies, pure drinking water is quickly the most important item. FEMA and the Red Cross recommend a supply of one gallon of water per person per day. Keeping emergency water purification tools in your backpack or home ensures there will always be clean drinking water when needed.
Buy Emergency Water Purifiers Today On Amazon.com
Water Purification Tablets
Unlike antiquated iodine water purification, chlorine dioxide tablets and water treatment drops effectively remove the worst viruses and bacteria without leaving an unpleasant aftertaste. Chlorine dioxide tablets and liquid drops are affordable and highly effective.
On average, chlorine dioxide treatments cost between .50 and .75 cents. Vacuum-sealed tablets are shelf-stable for four years making them an excellent choice for first aid kits and emergency packs. Chlorine dioxide kills giardia in 30 minutes and the more stubborn cryptosporidium in four hours.
Tablets and drops are great for purifying and preserving stored water. Potable Aqua, Aquamira, and MicroPur are a few of brands that manufacture water purification tablets and chlorine dioxide drops. One pack of 30 tablets usually costs less than $15.
Aquamira Frontier Emergency Water Filter
The Aquamira Frontier is a disposable personal water purification system that includes an integrated drinking straw. The Frontier Emergency Filter by McNett and Aquamira fits on standard water bottles and can also be used for drinking directly from an unpurified water source. The Frontier includes an activated carbon filter with antimicrobial media that can purify up to 20 gallons of water. The filter effectively reduces bacteria and viruses, however, it does not meet EPA standards unless combined with secondary water treatment drops. Aquamira's Frontier water filter weighs one ounce making it an ideal choice for carrying in a pocket, day pack, or three-day emergency kit. At $12 each, you can afford to purchase one for everybody in the family.
Aquamira Frontier Pro by McNett
Engineers working for Aquamira were called upon to develop a portable, pump-free filtration device that can compete with larger units. The task was to double the output of the Aquamira Frontier emergency edition without increasing the size or weight. To achieve this, designers added a series of pre-filters to extend the life of the activated carbon filter. The Frontier Pro is a disposable water purification system with a 50 gallon capacity. A patented mouthpiece filters water as you drink without causing cross-contamination. The Frontier Pro can also be used as a gravity-fed filter. The size and capacity of the Frontier Pro makes it ideal for individuals as well as 72-hour emergency supply kits. For best results, filtered water should also be treated with chlorine dioxide tablets. The Frontier Pro retails for $24.95, so you can buy one and afford a second for backup.
SteriPEN Emergency Water Purification System
Hand-held water purification systems developed by SteriPEN have been used by military groups, relief organizations, and individuals all over the world. The SteriPEN Emergency model can purify one quart of water in 90 seconds. The UV element is designed to fit in all standard water bottles. For ease of use, LED indicators blink when the purification cycle is complete. The SteriPEN is powered by four AA batteries. Lithium ion batteries are ideal because they have the highest energy capacity and resist self-discharge in storage. The SteriPEN can purify 100 quart-size servings of water using one set of four lithium batteries. UV water purification systems are designed for use in clear water. For treating cloudy or murky water, use a coffee filter or SteriPEN pre-filter. The SteriPEN emergency model retails for $60.
Katadyn Gravidyn and Ceradyn Drip Filters
Drip filters are one of the slowest water purification methods, however, they have several major benefits. Gravity-fed drip filters are popular with international aid groups and disaster relief programs because they are extremely reliable and contain no moving parts. Legendary Doulton ceramic filters reduce radioactive particles and eliminate pathogens. The Gravidyn and Ceradyn systems contain three ceramic cartridges for a filtration capacity of 40,000 gallons. The Gravidyn cartridges include a secondary carbon filter that reduces chemical particles and improves taste. However, carbon has a short life, so filters need to be replaced every six months. The Ceradyn filters have a longer life because they do not use carbon. Katadyn's large capacity drip filters have two separate 3.5 gallon tanks that can produce enough water for a group of six. Gravidyn and Ceradyn drip filters retail for between $220 and $250.
Katadyn Combi Counter-Top and Bottle Filter
The award-winning Katadyn Combi pump filter can produce enough water for groups of four people. The Combi filter includes replaceable activated carbon and a ceramic filter cartridge that removes pathogens, chemicals, and radioactive particles larger than .2 microns. The Combi is designed to attach directly to standard water bottles with a special bottle adapter. The pump filter can also be hooked to the tap for home or RV use. Katadyn's Combi water filter has a capacity of 13,000 gallons and retails for approximately $160.
Whichever option you choose, it's important to include the water purification system in an organized and well-labeled emergency kit that will be easy to find. Whether you're a solo backpacker, a casual day hiker or a suburban homeowner, water purification systems are an invaluable tool for catastrophic situations. Emergency purification systems are the best way to prepare for the unexpected and ensure there will always be clean water for you and your family.